Ever faced the jitters the night before having to give a presentation? Ever wondered how some people are able to sail effortlessly through their presentations without being hounded by endless queries and questions? Why is it that some presentations cater to every requirement of their intended audience while others only skim the top, leaving the audience wanting for more by way of explanations? Similarly, some presentations make it impossible for viewers to look away, while others can put them to sleep. Is it just the quality of content and research material portrayed in different kinds of presentations that justify such different reactions or is there something more?
A compelling, intriguing and interactive presentation is one that is built on strong research, personalized to the audience's interests, and planned to anticipate and answer questions about the message being sent across. A good presentation would make your ideas stand out effectively. Presenting – in some form or the other – is an integral part of the business world. You are using presentation skills on a regular basis, whether you are speaking in front of formal audiences or simply making your voice heard in a meeting of your peers and superiors. Inculcating the art of making a good presentation, thus, improves your capability to become a great communicator.
This course helps you learn these techniques by focusing on the key elements of effective presentations: understanding your audience, preparing your content, delivering confidently, controlling the milieu and, lastly, avoiding common mistakes. This course is designed for everyone - from a rookie speaker to an established presenter. Whether you're presenting an idea or a product or a complicated issue, this course gives arms you with all the tools to make it right and stand out.
COURSE OUTCOME
After completing the course, you will be able to:
Design and develop effective presentations, including technical presentations
Use visual aids to make your presentation engaging
Deliver successful presentations
COURSE OUTLINE
Module 1 – Making and Delivering Presentations

Making High-Impact Presentations
Designing a Successful Presentation
Technical Presentations

Module 2 – Using Humour in Presentations
Certification Exam/ Assessment
CERTIFICATION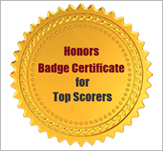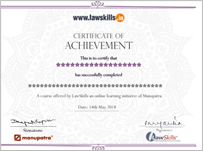 WHO SHOULD TAKE THIS COURSE
Students
Salespersons
Marketing Professionals
Human Resource Professionals
Lawyers
Management Executives
Anyone who wishes to improve his presentation skills
Level: Beginner
Language : English
EVALUATION METHOD
Learners must submit all assignments and secure at least 50% marks in Certification Exam at the end of the course to obtain the course certificate.
About the Author
Team LawSkills is a group of passionate and dynamic professionals who endeavor to craft content with perfection for learners. The team also liaisons with practitioners in various fields and professions to include their varied experience in developing all-inclusive courses. The resultant courses amalgamate theory and practice synchronous with the demands of professional practice.
© Manupatra Edutech Pvt. Ltd.