Alternative Dispute Resolution: Breaking the Litigation Jumble
While Courts and judiciary are the recognised pillars of India's legal system, Alternative Dispute Resolution (ADR) is gradually becoming a preferred method of resolving commercial and personal disputes. Be it a multi-million dollar cross-border construction industry dispute or a purely domestic dispute between husband and wife, ADR techniques are applicable in wide variety of contexts with many benefits over traditional litigation. However, many lawyers, consultants and professionals struggle to approach conflict resolution correctly and thus lack the required skills.
This course outlines the diverse ADR practice prevailing in India and its utility across different settings – both domestic and international. The aim of this course is to discuss practical applicability of each Alternative Dispute Resolution technique and to create skillful negotiators, mediators and arbitrators to cater to the requirements of various segments of people both domestic and international.
COURSE OUTCOME
After completing this course, learners will be acquainted with the knowledge and skills with regard to:
ADR mechanism and its comparison with traditional litigation
Various ADR techniques in practice and the difference between them
Practical procedures for various ADR techniques
Interface between domestic and international space in context of various ADR techniques
COURSE OUTLINE
Module 1 – Introduction to ADR
Module 2 – Arbitration: Overview
Module 3 – Laws Governing Arbitration
Module 4 – Procedure for Arbitration
Module 5 – Mediation, Conciliation and Other forms of ADR
Module 6 – Sector Wise Practical Application of ADR Methods
Module 7 – Conclusion
Certification Exam/ Assessment
CERTIFICATION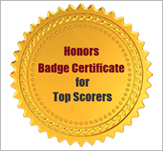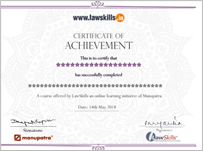 WHO SHOULD TAKE THIS COURSE
Legal Consultants and Advisors
Lawyers
Law Students and Researchers
Other stakeholders interested in Alternative
Dispute Resolution Mechanisms
You do not have to be a lawyer to take this course
Level: Intermediate
Language : English
EVALUATION METHOD
Learners must submit all assignments and secure at least 50% marks in Certification Exam at the end of the course to obtain the course certificate.
About the Author
Ms. Geetanjali Sharma is an advisor at Suvarna Arogya Suraksha Trust (SAST), working under the aegis of Dept of Health & Family Welfare, Government of Karnataka. She is overlooking the implementation of various state and central health insurance schemes in the state of Karnataka.is a qualified lawyer, certified mediator and presently a consultant with the government of Karnataka. She has worked as a Senior Associate in the antitrust team of Lakshmikumaran & Sridharan Attorneys where she was involved in both contentious and advisory work to domestic and international clients across diverse range of sectors including oil & gas, taxi associations, automobile company, conveyor belt & paint industry. She has also worked as an Associate at the Delhi Chambers of Nakul Dewan, Barrister (20 Essex Street London).

Ms. Sharma holds a post graduate degree in law from University of Cambridge. She is a fellow at the Harris Public Policy School at the University of Chicago. She was awarded scholarship to attend the Private International Law program at the prestigious Hague Academy of International Law and was chosen as a delegate to participate in the American Bar Association Asia Pacific International Mediation Summit in 2015. Previously, she has created learning modules and toolkits for organisations including the American Bar Association (ABA), Central Board for Secondary Education (CBSE) and University Grants Commission (UGC).
© Manupatra Edutech Pvt. Ltd.
Learners who viewed in this course, also viewed: