"The biggest risk is not taking any risk... In a world that's changing really quickly, the only strategy that is guaranteed to fail is not taking risks."
-Mark Zuckerberg
Unforeseen events take place every day and in many unexpected means- be it the 2008 global economic crisis, the natural disasters like tsunamis, earthquakes, or the political uprisings. At the organizational level, the common outcomes of these unexpected events have been the loss of the workforce, ruined operations, damaged IT infrastructure, deficit in the cash flow etc.
The markets favor the risk takers. This notion, however, should not be construed to mean that one puts at stake their prospects of success. It is through calculated risks; founded on a comprehensive understanding of your organization's inclination towards risks and the safeguard mechanisms that success is ensured.
The essential question is how do you facilitate your leadership to achieve this goal? Of course, the answer lies in a productive and robust Enterprise Risk Management (ERM) Agenda which forms part of the business strategy of the firm itself. While we cannot predict the "risks" with absolute certainty, what we can do is be "proactive" and "better prepared" so as to respond better faster. In other words, from a shareholder's perspective an enterprise needs to examine how well its core business strategy will perform under different unexpected scenarios and events.
This course addresses all the major ERM activities: from risk framework to risk governance, identification monitoring and mitigation. It aims to provide a blend of academic and practical ERM approach based on the integration of ERM with value-based strategic planning and decision-making. The goal is to provide a holistic coverage of a range of current ERM practices together with answering the question on how to manage risk strategically in all its dynamic complexity. The Course also offers an examination of the areas critical to an organization's success from a strategic, operational and financial perspective; and evaluates the steps required for managing strategic risk. It also examines why many companies fail in spite of the vast knowledge of factors driving success.
COURSE OUTCOME
After completing this course, you will be able to:
To understand different types of strategic risks.
To develop methodical and integrative thinking in understanding and implementing the risk management practices.
To collaborate on building a risk management program that successfully incorporates strategic goals.
To evaluate the points of engagement – ERM & Strategy planning.
To practice communication skills entwined with risk management topics.
To prepare readers in applying Risk Management principles in their professional life.
COURSE OUTLINE
Module 1 – Introduction to Risk Management Process
Module 2 – Strategic Risks and its Types
Module 3 – Risk Mitigation and Monitoring
Certification Exam/ Assessment
CERTIFICATION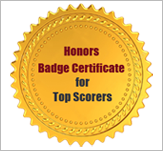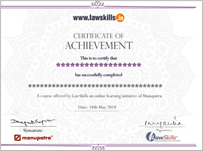 WHO SHOULD TAKE THIS COURSE
IT Managers and Professionals;
Businesses wanting to alleviate and manage IT risks;
IT Practitioners;
Chief Security Officers;
Heads of Risk Management Firms;
Heads of Legal Departments;
Heads of Regulatory Compliance Firms;
Accountants;
Internal, External Auditors;
Entrepreneurs interested in realizing their business ideas on the risk management;
Managers;
Company Executives;
Professionals in any field;
Government Officials;
Lawyers;
Students; and
Anyone interested in obtaining a broad overview of the principles and practices of risk management.
Level: Beginners
Language: English
Duration: 6 Months
EVALUATION METHOD
Progress will be tested by way of quizzes and assignments at the end of each Module. Learners must attempt the exam at the end of the course and secure at least 50% marks to obtain course certificate.
About the Author
Deepali Kharbanda with inputs from Gaurav Jain. Deepali is an alumnus of Faculty of Law, Delhi University, and currently working as Faculty and Senior Legal Editor at LawSkills. She brings on board 10 years of extensive experience and specializes in the field of law and technology, commercial laws and policy. Gaurav has 12 years of experience in the risk management domain. He has completed his international PG Diploma in Risk management from IIRM Hyderabad (Institute of Insurance & Risk Management) and M.com from Delhi University; also he is a Certified Fraud examiner from Association of Certified Fraud Examiner, USA. Presently, he is working as a Chief Risk Officer for Bajaj Capital Ltd, a leading financial services company in India.
© Manupatra Edutech Pvt. Ltd.